Article: Flower care tips for freshly cut flowers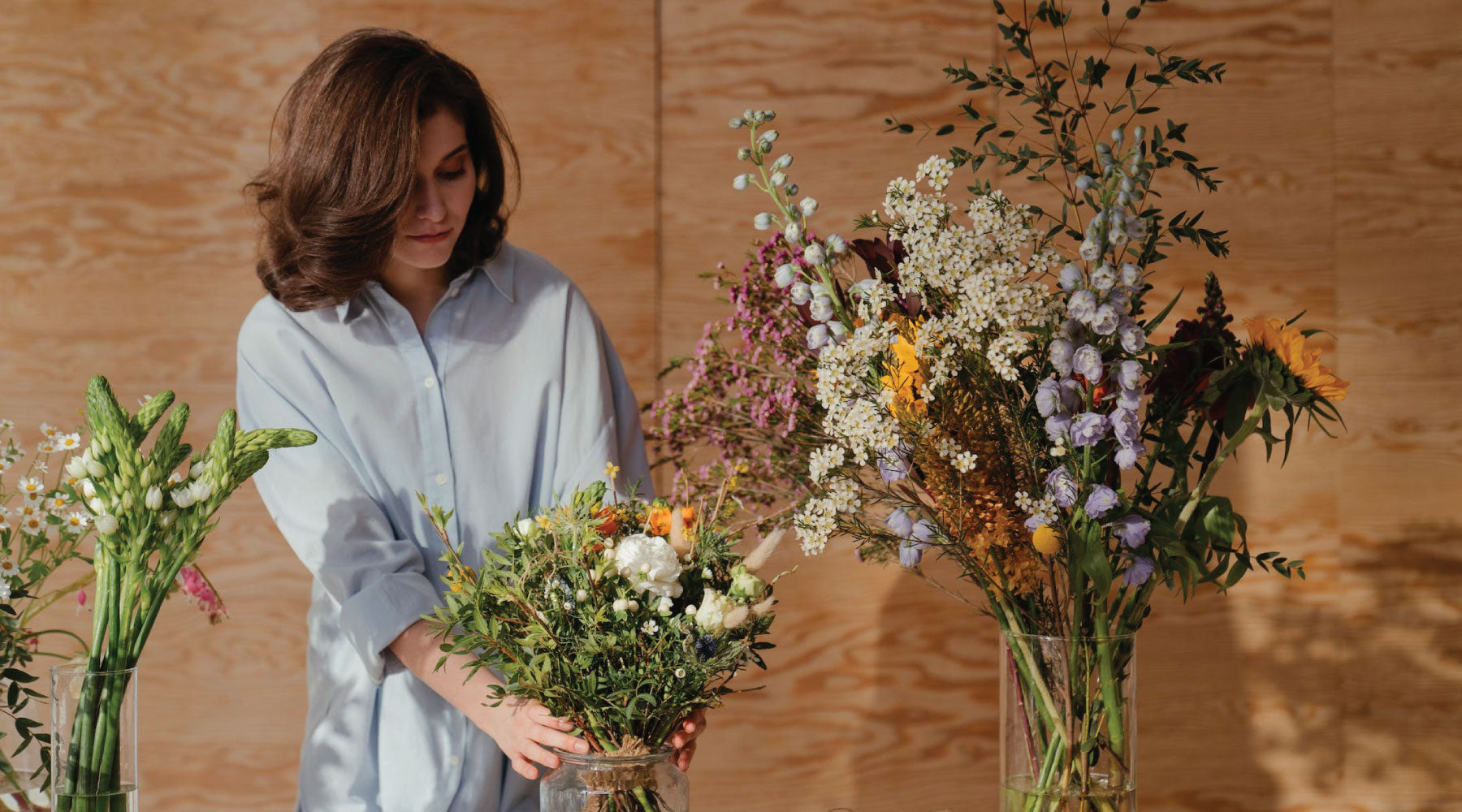 Flower care tips for freshly cut flowers
You can always brighten someone's day with a beautiful bouquet of flowers. We offer our customers the best fresh flower arrangements that are carefully crafted and cared for with love. Nevertheless, once the flowers arrive at their destination, it is important to care for them properly so that they can make you happy for as long as possible.
Start with a clean vase
Freshly cut flowers need to be protected against bacteria. To avoid harmful bacteria from growing in the vase and to ensure that the water in the vase is clean and fresh, always make sure the flower vase is clean from the previous use. We offer different types of vases, as well as a wide variety of flowers in vases. All you have to do is choose beautiful flowers, vase and order online.
Cut off the flower stalks and remove the dead leaves and buds
From time to time cut the end of the stem at an angle. It will help the flower to absorb water better. It is important to use a sharp knife or scissors, because blunt objects can squeeze the fine stems, which can affect the access of water to the flower. You should remove wilted leaves and buds since they begin to rot when they enter the water, creating a favorable environment for bacteria and fungi. Do not remove all the leaves, because the flower needs fresh leaves, they help with hydration.
Change the water regularly
To keep flowers alive, it is necessary to change the water. Large flower arrangements drain all the water very quickly, so you need to keep track and replenish the water regularly. Every time you change the water, make sure the vase is clean. Composed water will make a good environment for bacteria to grow.
The most important tips for caring for roses
Roses are among the most romantic and popular fresh cut flowers. Choosing the right water temperature is important for their health. To keep the flower alive, put lukewarm water in the vase and change it regularly. Of course, follow other tips for caring for fresh cut flowers. On orchidya.com flower online shop you can find a wide range of fresh flower arrangements with roses, including, beautiful Pink Pearl, glamorous Mon Amour and stunning Duchess. You can order flowers online and delight someone with marvelous flower gifts.
What must be observed when caring for peonies?
There is something magical about peonies, modern flowers that can enchant any flower lover. In the vase, their lifespan is relatively short, so they have to be cared for to extend this beautiful experience a little longer. From time to time cut 3-5 cm from the flower stalk. This will allow the peonies to intake water better. It is not good for peonies to be exposed to direct sunlight or wind. On our website it is possible to order fresh flower arrangements with peonies, such as Leeloo, Peony Madness and Balarina.
How to protect hydrangeas from twisting?
Besides absorbing water from the stems, hydrangeas also hold water in their petals. Therefore from time to time spray those petals with water. If you see that the flowers are starting to wilt, put them in a warm water bath with all the petals for a while. It is also a good idea to trim the stalk from time to time. Order beautiful fresh flower arrangements with hydrangeas at our online flower shop. It is our pleasure to offer you The Pure, Pink Diamond, Water Petals and so much more. Make a loved one's day special by sending them fresh flower arrangements. Make sure the flowers last for as long as possible by using these tips. Orchidya London flower online store has a variety of offers for you to choose from. At orchidya.com you can also order plant supplies for your houseplants to keep them fresh!